Welcome to HawkFilme
a Connecticut independent filmmaker-auteur
----------------------------
News!
"Esquire" is in post production. After five days of shooting, we have logged 47 hours on the set. The production involves cast (including Michael Barra from The Amazing Spider-Man), crew and extras totalling 60. There were seven locations.
-------
Received a highly valued testimonial from
Jan Harlan (executive producer for Stanley Kubrick and Steven Spielberg)
who praised my work. Click here to view the details.
-------
"Eeny, Meeny, Miny, MOE..."
is in distribution by Drama Club Films, an international, award-winning distribution company based in Toronto, Canada. Click here if you want to secure the rights.
----------------------------
Ratings of my filmes on IMDb
Eeny, Meeny Miny, MOE...
Ethan
Aleph to Taw: Part 4
Our World Order
Eaten By The Sea
The Making of Time's Up
U.S. Route 1 - ME
HawkFilme is a filmmaking production company with years of experience and films that have been shown at film festivals and public venues.
Here is an overview of this website's content:
My work can be viewed on the following pages:
My Demo Reel - a sampling of my projects.
Filmography - completed HawkFilme scripted films.
Anthology - 2014 - all film and film related projects.
Anthology - 2013 - all film and film related projects.
Anthology - 2012 - all film and film related projects.
Resume - all film related activities.
Upcoming projects will be announced on these pages:
Development - projects currently in development or in production.
Events - upcoming film related activities.
I am available to work on projects outside of HawkFilme. More information can be found on this page:
Outside Projects - a statement regarding the focus of my availability.
As always, thank you for your ongoing support,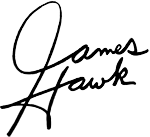 James W. Hawk
filmmaker - auteur